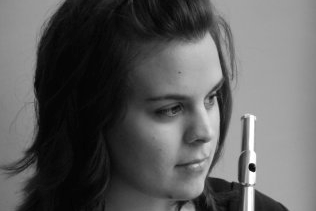 Mrs. Megan Richardson
PVMS Music Department Director
Mrs. Richardson received her Bachelor of Music degree in Flute Performance from Ithaca College in 2007. In 2009, she completed her Master of Music degree in Flute Performance at the University of Wisconsin-Madison.
She began studying flute at Eastman School of Music's Community Education program and held principal positions in country, state and regional wind ensembles and orchestras.
She performed with ensembles and music exchange programs, which have taken her all throughout the United States and Europe. She studied performance and chamber music for a year in London with flutist and flute professor at the Royal College of Music, Susan Milan. Mrs. Richardson was principal flutist in Ithaca's premiere Wind Ensemble that toured Ireland. She also held the position of principal flute in Ithaca's Chamber Orchestra.
During the summer of 2008, she resided in Southern CA, where she studied with Principal Flutist, Cathy Karoly of the Los Angeles Philharmonic. Other notable teachers include Stephanie Jutt, Wendy Mehne, Sophia Gibbs Kim, Lawrence Trott, Claudia Anderson, and Rebecca Gilbert. Meg has also had the fine privilege of playing in master classes for Mary Kay Fink, Judith Ormond, Valerie Coleman, Mathieu Dufour, Rebecca Gilbert, Alexa Still and Marianne Gedigian.
While attending the University of Wisconsin-Madison, Mrs. Richardson was awarded the Advanced Opportunity Fellowship. She was also awarded a Project Assistantship, where she worked for the Graduate Admissions Office at UW-Madison School of Music. Meg was an active flute instructor through UW-Madison's Community Education Division, Arboretum Music School and continued to teach privately.
She has had the to opportunity to direct elementary through high school orchestras. She has also been performing professionally as well as maintaining a private flute studio.
In addition to being Pine View Middle School's Music Director, she is on faculty at the Straz Center as Patel Conservatory's Flute and Chamber Music Instructor. She is also on the executive board of directors as well as an active music instructor with Tampa Metropolitan Youth Orchestra. Mrs. Richardson is excited to be on staff at Pine View Middle School and continuing to inspire students through music.
For important dates and information:
Please make sure if you are chaperoning for a school field trip, event, or volunteering you must be an approved volunteer through the school.  here is the website to complete the online application.
https.//webdb.pasco.k12.fl.us/fmi/iwp/cgi?-db=vol_&loadframes
Please be sure to fill out an emergency card form and a transportation form for upcoming band events, such as, football games, parades and field trips.
2018-2019 All County Band Requirements
2018-2019 All State Band Requirements