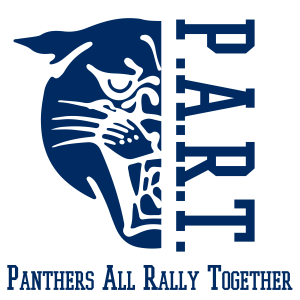 Coming Together To Help Panthers Achieve Success
What is P.A.R.T.?
A community engagement program designed to highlight parent/guardians who champion a safe and a positive environment through volunteering time at the school.
Participants come to the school during school hours to assist with ensuring the school is safe by helping students get to class in a timely manner, using their best behavior, and pursing the best choices.
Why does P.A.R.T. exist? 
To gather and promote community involvement and support from the stakeholders of Pine View Middle School.
To provide additional supervision with the purpose of enhancing the safety and security of all Panthers.
To demonstrate the importance of education through a collective partnership of the school and the community that it serves
Who does what? 
Program Administrator – Steve Williams
Program Coordinator – TBD
Program Members – Parent, guardian, community members, and other volunteers serving to fulfill the mission of the P.A.R.T. All members:

Communicate regularly with the Program Coordinator
Are a Pasco County School District approved volunteer
Abide by all Pasco County School District policies
Check in at the front office each time they come on campus
Wear The Parent P.A.R.T. T-Shirt when "on duty".
Follow assigned daily duties
Engage in proper conduct as outlined in the Parent P.A.R.T. Agreement Terms and Conditions
Ensures the purpose of the Parent P.A.R.T. Program is implemented daily
Why should you sign up for the program?
You care about the students at Pine View Middle School
You want to be a part of finding and supporting solutions
You can choose what days and what times you volunteer
You want to be a part of something big in the lives of children
What makes an outstanding program member?
To achieve the purpose of the P.A.R.T. Program, program members will provide support to Pine View Middle School through engaging in the following actions:
Always wearing his or her uniform
Encouraging students
Help with traffic flow of vehicles and students at arrival and dismissal
Monitor hallways and entrances
Monitor buildings – inside and outside
Provide supervision during transitional periods
Assist with lunch supervision
Serve as guest speakers to classrooms
Actively and positively engage with Pine View Middle School students, faculty, and staff
Mentor students
P.A.R.T. Agreement Terms and Conditions
All Pine View Middle School P.A.R.T. members will adhere to the following:
Wear the Parent P.A.R.T. T-Shirt
Check-in at the front office daily
Follow the daily schedule
Be approachable:

Smile
Talk to students
Listen to students

Abide by The Code of Ethics and Principles of Professional Conduct of the Education Profession in Florida
Follow the school's confidentiality policy in regard to information pertaining to both students and staff
Demonstrate neutral political and religious views
Not be disruptive when classes are in session
Notify school administration when a student is in violation of the Code of Conduct
Do Not engage in any physical contact with students
Refrain from conduct that would bring disrespect to yourself, your student, and/or the school
Refrain from using profanity
Refrain from physical use of force
Abstain from the use of tobacco products (including vapes), alcohol, and drugs while on the Pine View Middle School Campus
Never be alone with a student
Limit use of electronic devices while on duty
Failure to comply with these terms, could result in immediate dismissal from the program and cause possible further action being taken, which could include legal and/or criminal charges by the school.